Emirates Park Zoo Sponsorship Event
Publication date: 11 Feb 2016
Zone Parking Solutions Sponsors Emirates Park Zoo as part of its Corporate Social Responsibility.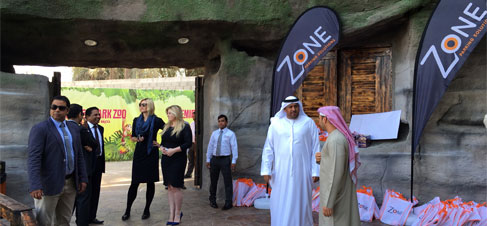 Emirates Park Zoo and Resort (EPZR), a touristic landmark in the capital Abu Dhabi has recently held a grand ceremony, during which a generous contribution by Zone Parking Solutions was presented to EPZR to support cultural, recreational and educational projects with an aim to increase the interest of students in edutainment activities in the UAE.
During the ceremony Mr. Faris Ahmed Ramadhan Juma, CEO of Zone Parking Solutions, presented a cheque to Mr. Faisal Al Nuaimi, Deputy Chairman of Emirates Park Zoo in the presence of a large number of guests.
Many students, representing a number of schools in the United Arab Emirates, expressed their talents through wonderful paintings about the rich heritage of the UAE and enjoyed a wonderful educational and cultural activities during the grand ceremony which was held on this occasion at the Square Garden Theater. Mr. Juma expressed his pleasure to visit the resort, which aims to add to the tourism perspective in the capital Abu Dhabi.
Mr. Nasser Al Nuaimi, Chairman of Emirates Park Zoo expressed gratitude towards the generous contribution handed by Zone Parking Solutions which aims at supporting humanitarian activities everywhere to raise the educational level at schools in Abu Dhabi and the UAE.
Mr. Ali Hamad Lakhraim Al Zaabi, Chairman of the Board – Zone Parking Solutions further added: "The support that ZONE presented today is a contribution to further support the vision of the Zoo, and will continue to participate in similar initiatives in the future".