United Arab Emirates University Award
Publication date: 28 Apr 2016
Zone parking Solutions receives an appreciation award for the role it played in preparing and training young nationals.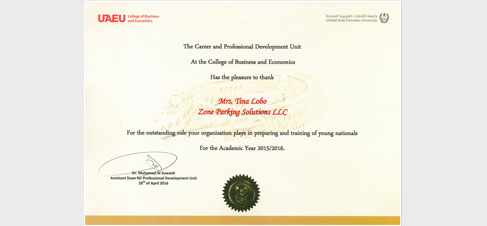 As part of our corporate social responsibility, every year, we take on board a group of students that have the potential to become tomorrow's future leaders and give them the opportunity to experience what the real world is all about. At Zone we believe that theory should always be followed by practice and this is why we pride ourselves in training the future generation through our internship programs that are designed to give each student a hands-on experience that is related to their field of study. Since Zone is a large organization, we have the capability to offer experiences in Human Recourses, Procurement, Admin & Finance and Business Development, to name a few.
This year we welcomed students from UAEU and we were delighted to work with them on major projects where the students offered invaluable input to our work and helped meet project deadlines. We would like to thank our counterpart for the quality of their students, and we look forward to receiving many more in the future.