Abu Dhabi University Internship Program
Publication date: 09 Mar 2016

Abu Dhabi University honors the contribution of Zone Parking Solutions.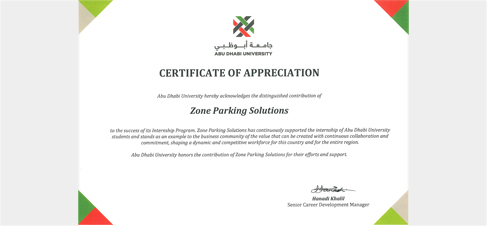 Zone Parking Solutions was honored by Abu Dhabi University for the contribution through its internship program. Every year ZONE takes in students from various universities and offers them a rich experience that adds value to their education curve. This year, we have partnered with Abu Dhabi University to offer its students an internship, which is part of our corporate social responsibility.
Get in touch with us
*IMPORTANT! Please do not use this form to apply for jobs, to do so, visit our careers page.