JBR, The Walk
Publication date: 05 Feb 2013
Overview
---
Jumeirah Beach Walk is one of Dubai's main outdoor leisure districts. The Walk has over 200 retailers, numerous restaurants and hotels.
Customer parking is provided in the form of a 550 space surface car park located in the center of The Walk. In addition to the off street car park, there are a small amount of on street parking bays, which are primarily used for drop off and deliveries.
The Client contacted ZONE to request a proposal to operate the 550 bay off street car park.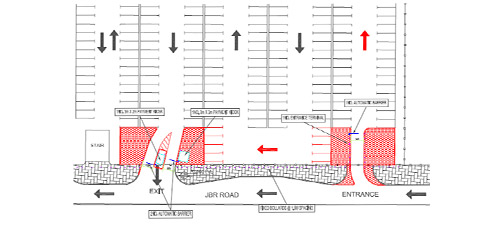 The Solution
The solution was delivered in three stages, as follows;
Phase 1 – ZONE advised the Client on the layout of The Walk Car Park, overseeing the construction of the Car Park from systems perspective.
Phase 2 – ZONE designed and implemented a Paid Parking Management System at The Walk Car Park.
Phase 3 – ZONE have been operating The Walk Car Park since 17th February 2013.
Services Provided
Car Park Design Consultancy Services
Construction Project Management
Parking System Design 
Car Park Operational Services 
Key facts:
Client:                               Dubai Properties
Capacity:                          550 bays
Parking process:             Take Ticket at Entry & Pay at Exit (EPOS)
Parking technology:       Designa Abacus
Contract type:                 Revenue Share agreement
Contract award:              5th Feb 2013